Case Study
More insights and leads thanks to guest interactions
As a Swiss railroad company, the Rhaetian Railway offers around 12 million passengers from all over the world an eventful journey through Graubünden every year. There are numerous opportunities around the train journey to make direct contact with customers. The secret recipe here is the focus on relevant interaction options, which can be integrated in the background and easily handled by RhB.
With the two panorama trains Bernina and Glacier Express, the Rhaetian Railway provides mobility of a special kind. The adventure journeys of several hours through untouched mountain landscapes offer enough starting points to interact with passengers in a targeted manner and to anchor the RhB in their minds with a unique customer experience. And this is where two key challenges come into play:
Since tourists usually book their tickets via travel portals and external platforms, RhB is often unable to identify the user behind the passenger. So how do you create

natural interaction surfaces to generate targeted

lead data?

Passengers interact with the Rhaetian Railway at various touchpoints along the customer journey. This potential has only been exploited to a limited extent. So, how can these interactions be used to

pick up the customer's point of view

directly and generate more

coverage

for your own topics?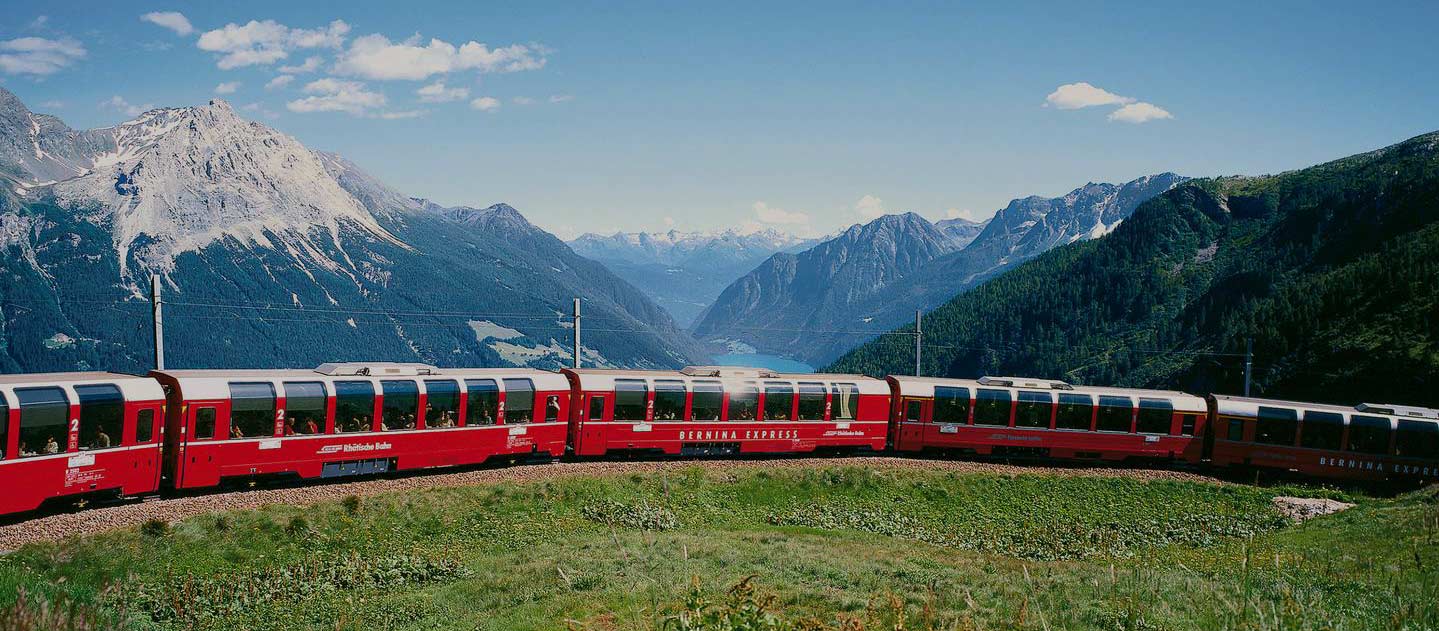 Solution
To meet these challenges, the Rhaetian Railway had to find ways to improve the direct contact with its passengers – this is exactly where the yawave User Interaction Suite supports the RhB. An important piece of the puzzle here are digital interaction tools, which give passengers the opportunity during and after their journey to give direct feedback on the experience they have had, to take part in competitions or to share their own experiences directly with others.
But how does the Rhaetian Railway use the solution in concrete terms? With the feedback tool, it can pick up customers' opinions at the various contact points in a targeted manner and thus continuously improve customer service. Currently, the following touchpoints are included:
Railservice Center

RhB-switch

Toilets (Cleanservice)

Bernina Express Website / Webshop

Bernina Express panoramic trains

Infotainment System
In addition to satisfaction with the staff, the attractiveness of the catering offer, the perceived travel comfort or cleanliness, the use of the InfoT(r)ainment System can thus also be queried, recorded and evaluated for the respective route and the specific point of contact. The Interaction Toolbox also offers further exciting possibilities such as the implementation of contests, votings or raffles, the direct configuration of forms (incl. payment) or the simple recommendation and sharing of content by the user. All interaction tools have a "Multi Language" capability, i.e. they can be configuratively created in several languages in a single step – this is especially crucial for foreign guests.
In addition to the intrinsic value of valuable customer feedback, operationally useful customer knowledge or increased reach, contact data can also be collected in a targeted manner to make the user behind the passenger visible. All these generated leads end up in the central contact management, where the respective permission is also stored down to the level of the individual contact. This is ultimately the basis for providing customers with personalized and relevant offers in the next step and thus achieving better customer loyalty.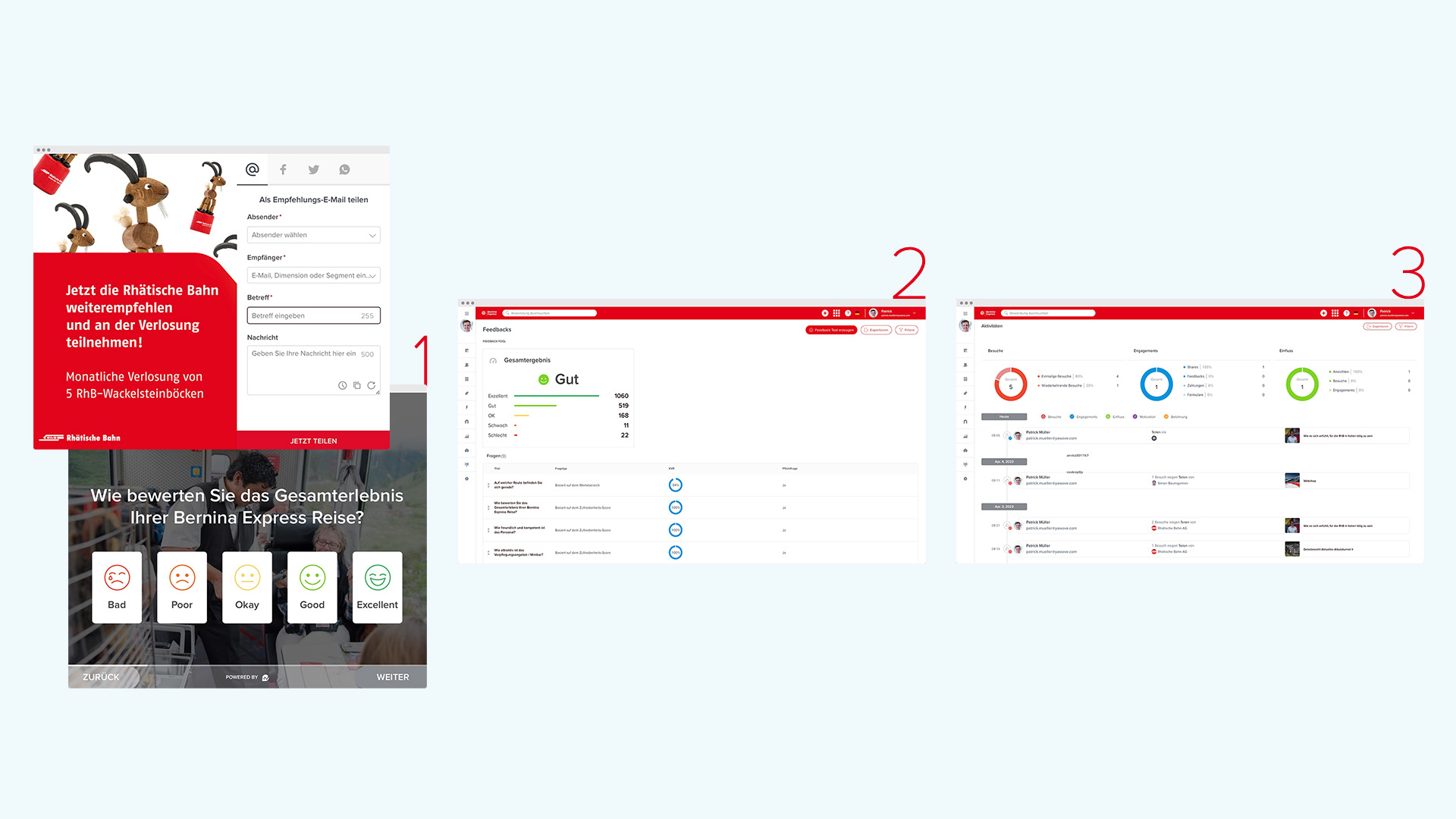 Step 1: Simple configuration feedback / share tool
The yawave feedback tool was used to conduct surveys among train passengers via tablets and QR codes. The tool could be easily configured, designed (start/end view, background images, questions, answer options, languages, consent settings, etc.) and adapted to RhB's corporate design in just a few steps. To increase customer engagement, RhB also uses the Share Tool for selected publications. This can also be prepared without great technical knowledge and packed onto the respective news article. The interaction tools can also be linked to pre-designed mails and notifications, thanks to the integrated Marketing Automation Suite, so that passengers with completed feedback automatically receive a personalized thank-you email.
Step 2: Direct evaluation of interactions
Interactions such as feedbacks or shares are evaluated directly in the User Interaction Suite, so that passenger satisfaction can be continuously monitored and responses analyzed in real time (individual questions & overall results). In the event of negative feedback below a predefined threshold, RhB's customer service is automatically notified to personally contact the passenger concerned.
Step 3: Central collection of all contact data
All data of the users, who have given their permission by filling out a survey or a share, are played into the central contact management. This generates new contacts or directly enriches existing ones. Depending on the action, the individual contact can also be automatically assigned to a specific customer dimension (e.g. passenger route "XY", survey participant, etc.) in order to be able to communicate more specifically with individual groups in further steps. The opt-in process and data protection are also centrally controlled thanks to contact management, as the time and place of the permission is stored on the contact across all tools.
Results
Interact to understand: Thanks to yawave, the Rhaetian Railway can not only interact with passengers more easily, but also generate targeted customer knowledge in the form of valuable feedback. Thanks to the intuitive design and the given advantages during a journey (one has time for a survey) a very good survey participation could be generated especially on the train. This allows RhB to interact specifically with a relevant number of passengers according to their satisfaction.
But to generate customer insight in the first place, an organization must build capabilities in lead and contact acquisition. With the User Interaction Suite and integrated contact management, the Rhaetian Railway was able to generate over 3,500 new contacts through feedback surveys alone. The willingness to provide the mail address was comparatively high thanks to a transparent procedure and a direct incentive (participation in a raffle), as the following figures show:
at the RhB counter (16%)

at Railservice (89%)

on the Bernina Express website (68%)

directly on the trains (72%)
Especially considering that RhB has very difficult access to customer data (as booking is mostly done via external platforms), a direct business potential could be created this way.
Success factors
The following points were central for the Rhaetian Railway to specifically solve the two identified challenges:
Link individual steps in the marketing and communication process with each other

Bringing together skills in content, interaction and contact

Generate interactions directly at the experience to target involvement

Gain more flexibility thanks to self-configurable and designable tools (feedback, etc.)

Use time potential (e.g. during travel) for targeted sprinkling and lead acquisition

Intuitive application, transparency and incentives increase willingness to provide data

Use interaction data as basic knowledge for customer actions and follow-up communication
«y

awave enables us to generate more contacts or leads from the interactions with our travelers – for example. we generate 75 new contacts for every 100 feedbacks with a simple feedback toolbox – this is direct business potential for RhB.

»
Michael Kistler
Head of Marketing Communications & E-business, RhB
Power publishing for your website?