Case Study
Integrated marketing and communication processes for FC Luzern
At a medium-sized soccer club like FC Luzern, efficiency issues are omnipresent in day-to-day business. Enabling tools and cross-functional systems are the key to integrated marketing and communication processes. Today, FCL can use the available human resources to achieve a higher frequency, reach and activation power of its own content in a targeted manner and thus bring the necessary news and interaction power to the pitch.
Challenge
As an ambitious Superliga club, FC Luzern is one of the league's flagship clubs and can count on the fan base of an entire region. At the same time, however, as a Swiss sports club you are also fighting for long-term relevance and find yourself in a relatively tight resource corset. This is the ambivalence in which many small to medium-sized sports clubs find themselves – not only in Switzerland, but also in top European leagues with an existing club divide.
It is therefore not surprising that efficiency and flexibility issues play a central role at FC Luzern – especially in operationally high-frequency areas such as marketing or fan communications. For an association with limited financial and human resources, it is essential that the processes in such central areas are solved in an integrated manner. But what does that mean exactly? And what is the specific challenge in the operational business? To do justice to this question, there is no getting around a closer look at the Fan Journey.
For FC Luzern, the upstream phase is about generating a preference for the club, its various teams, match days and sports-related offerings. Content is the central key to this. But how do you manage to satisfy the fans' huge hunger for information with a content team of 1-2 people?
Fan communication is successful when it is reciprocal. How can Leuchtenstadt not only communicate, inform and entertain with its own content, but also generate targeted interactions and micro-conversions (subscriptions, shares, sign-ups, donations, etc.) at the various touchpoints?
FCL was repeatedly confronted with a limited scope of action for various marketing and communication topics and had to resort to external partners even for smaller things such as setting up new website forms. So how can an association empower itself to react more quickly and flexibly to situations in the fast-paced sports environment?
Everybody wants analytics data, but concrete actions are often not taken because the figures are too general. Sports clubs increasingly want to understand the behavior of their fans, segment individual users based on specific activities, and trigger targeted follow-up communications. But how can Lucerne capture such fan interaction data centrally and across different touchpoints?
Fans, sponsors, members and employees interact with FC Luzern at various touchpoints along the journey. How do you manage centralized permission handling and consent management across all tools (subscriptions, forms, votes, etc.) and contact points, especially in view of the tightening of data protection?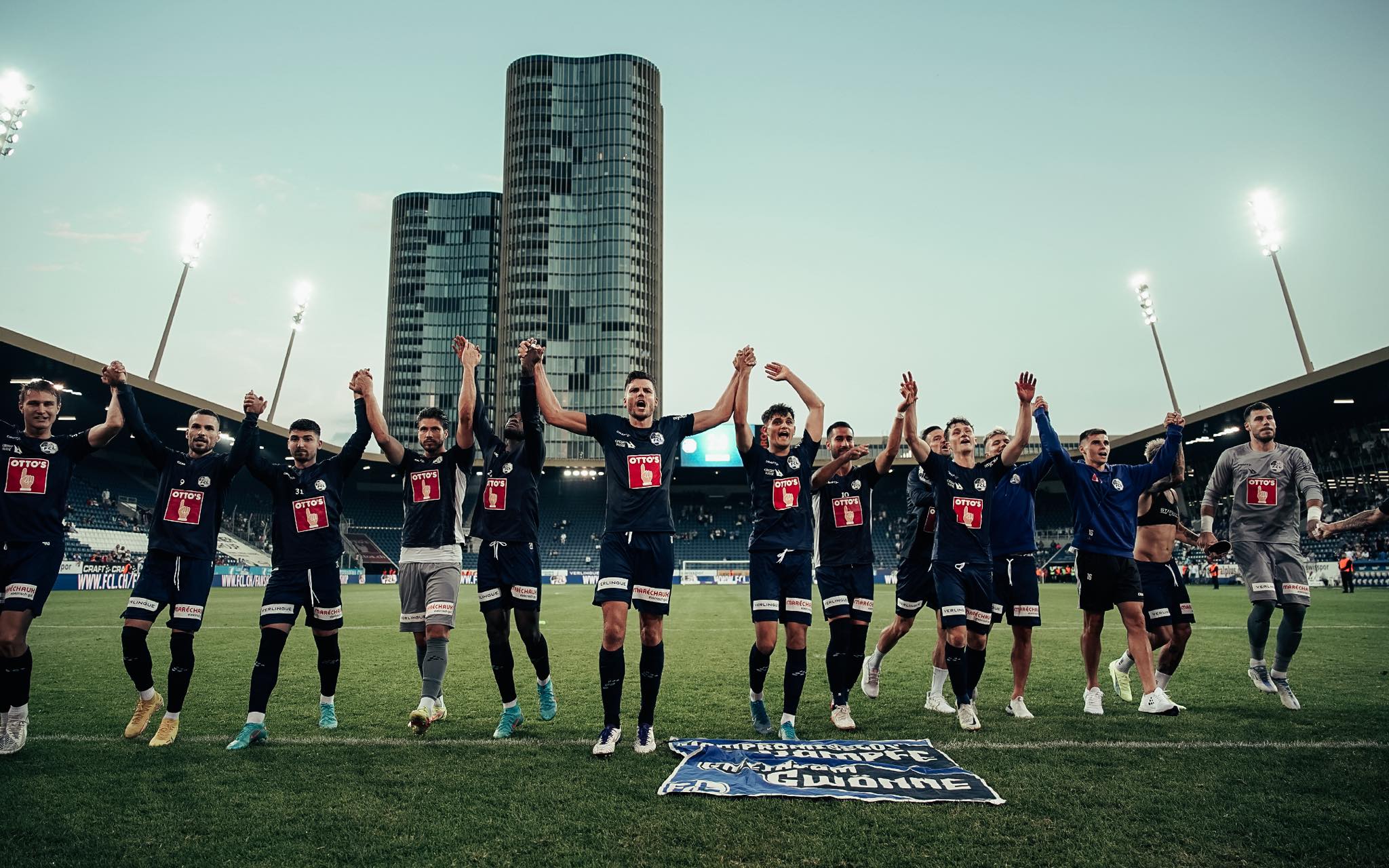 Solution
The five challenges addressed can all be addressed and solved within an integrated marketing and communications process. But what does that mean exactly and when does the word "integrated" deserve its name? In a sports organization, one can speak of an integrated process if all steps, from the cross-channel creation and playout of news to the targeted and, if necessary, automated follow-up communication after an interaction has taken place, can be linked together in an orderly and coordinated procedure.
Software can form the connecting layer that links the various sub-processes. The sum of the individual processes makes up the overall complexity. Between the above-mentioned news orchestration and follow-up communication, there are countless other individual processes that trigger marketing and communication measures and are part of the overall process of a sports club:
Communication and marketing processes
Loading of your own website/platform with dynamic news and information
Capture fan contacts and assign various dimensions, segments, and tags (manually or automated based on fan behavior)
Obtaining and central management of the consent or permissons
Creation of votes (e.g. Man of the Match, Goal of the Month), Fan Decisions (e.g. choice of future away jersey/goal song), satisfaction survey in the Business Club, etc.
Obtaining subscription for newsletters and/or individual club topics
Targeted and automated fan play after successful interaction (e.g. news visit, submitted feedback, completed form, etc.)
Other individual processes
Management and ongoing enrichment of all fan contacts in one central location
Activation and support of an interactive live ticker
Creation and cross-channel playout of posts on social media
Display and analysis of all interaction data for all fans, different segments or down to the level of the individual fan
Set up automated workflows for specific triggers (e.g. registration, feedback, ticket purchase, etc.)
Registrations for club events, business club, etc.
Enabling digital word of mouth through content sharing
Ordering and payment of limited or temporary merchandise items
Processing of registrations incl. Payment for junior camps, patronage, etc.
Creation and sending of newsletters for various fan groups, sponsors, patrons and employees
Sending of notifications due to certain events or the match newsletter for matchday communication.
Raffle of tickets, vouchers or business packages before a match day
Registrations for club events, business club, etc.
Playout of personalized offers based on interactions, match situations (e.g. goal scorers), fan behavior, etc.
…
Let's look at the points described above using three specific examples.
Example 1: Cup Winner Jersey
May 24, 2021 – a day that FCL fans have longed for for so long. FC Luzern's cup win ended a 29-year drought without a title. This also explains why a large number of fans wanted to secure a souvenir of this special day. FCL recognized this and tried to satisfy this need with a jersey made especially for the final. Directly after the final whistle, the involvement level of a group of supporters is demonstrably at its highest. The post-reporting a few minutes after the victory is therefore the most subliminal and effective way to generate targeted (micro-)conversions. Thanks to flexible and self-configurable interaction tools, FCL was able to offer its supporters a way to interact directly on the victory news – and thus react to the situation that had arrived within a few minutes.
Through the share tool, fans were able to share the success message directly with their personal environment. And with the payment tool, the city of lights enabled its fans to get their hands on one of the coveted Cup Final jerseys with just a few clicks. FCL only had to set up a form with certain mandatory fields, provide a suitable image and define the price. The Blue and Whites did not have to worry about the payment process thanks to the directly connected Stripe service. With the cup winner jersey alone, the Lucerne team was able to generate a considerable turnover during a few hours without depending on third parties.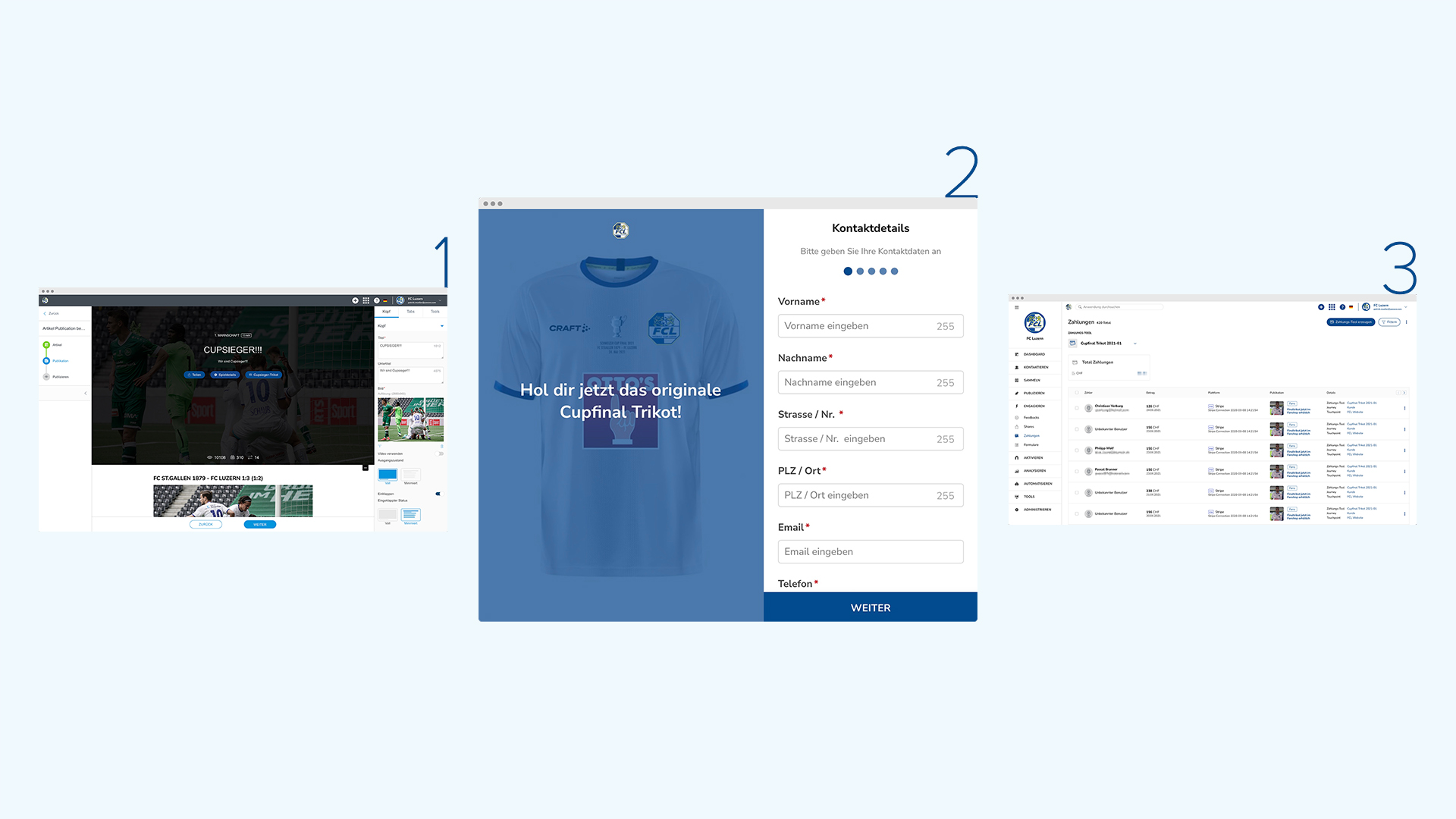 All interaction data, the obtained permissions and the contact data of the buyers are automatically played into the contact management. This allows the FCL to centrally manage and control the conversions that have taken place. The individual fan contact is also directly enriched with the interaction data obtained. With the Marketing Automation Suite, FC Luzern also has a tool to trigger targeted follow-up communication with the fan contacts concerned with manageable effort.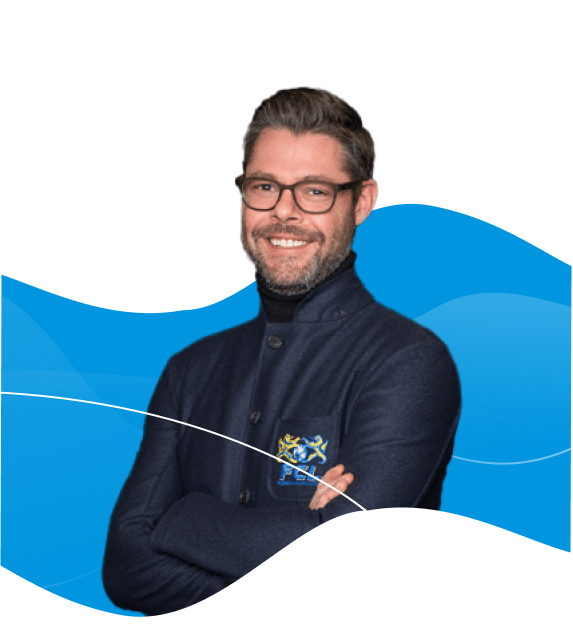 «With yawave, we can now generate fan engagement and interactions much more easily. The tool configurator is easy to use and we can link the generated tools like forms, payment or share to our publications anytime we want.»
Markus Krienbühl
Head of Media and Communication, FCL
Example 2: Fan voting
Fans love to participate in their heart's club and express their opinion on certain club issues. Voting, fan decisions and feedback surveys are perfect ways of gathering fan opinions. FC Luzern practices this gamification approach primarily in fan voting such as "Player of the Month", "Goal of the Month", "LUKB Best Player of the Season" or result tips for selected matches. Within a few steps, the FCL can design the "voting theme" (images, colors, buttons, etc.), design the welcome and closing interaction, define appropriate questions and answer options, and turn lead generation (mail address) on or off.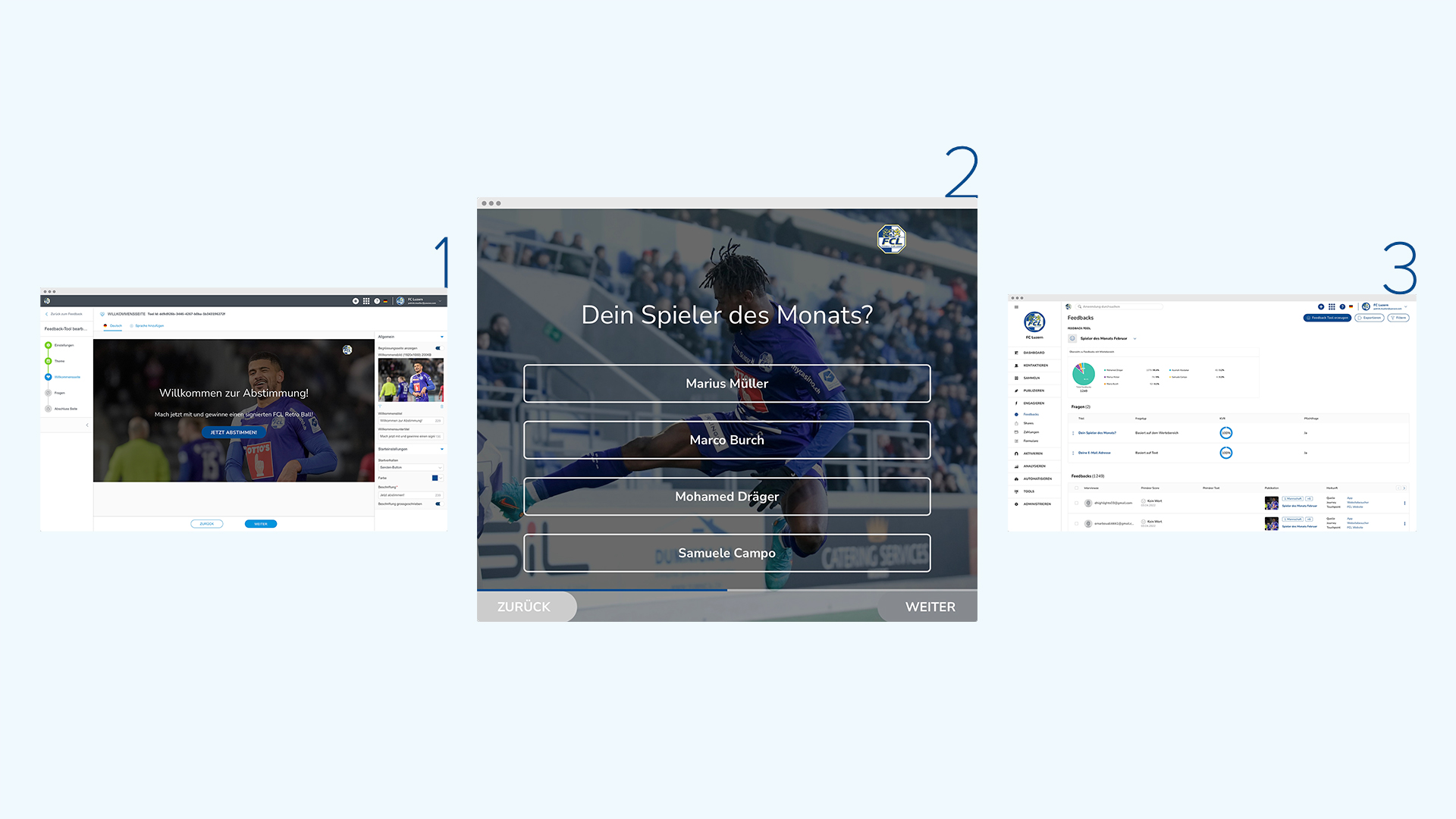 These votes can be packed directly onto a news item by FCL as an interaction tool or, thanks to the flexible configuration options, can be disseminated as part of a presentation together with a partner or sponsor (Luzerner Kantonalbank (LUKB), zentralplus, Radio Pilatus). There is also the possibility to drag publications with such a voting directly into the liveticker to enable fan voting and predictions even during the game. In the Voting Cockpit, all responses can be viewed and evaluated quickly and easily via a dashboard.
Certain votes reached over 1,200 feedbacks, which ultimately not only enabled broad-based fan participation in certain issues, but also generated valuable fan data for FC Luzern. With every single vote, FCL can activate its blue and white supporters on the one hand and on the other hand win new fan contacts including the corresponding permission. This subliminal lead generation then forms the basis for future fan contact enrichment.
Example 3: Junior camps
FC Luzern is one of the Swiss flagships when it comes to "promoting young talent". With the Kids Camps, FCL offers the youngest players in Central Switzerland the opportunity to hone their skills with professional coaches for a week and to get close to the club with an attractive supporting program. Not only the website, but also the numerous content about Lucerne's young talent offers an interesting interaction surface to make the club environment aware of the various activities in favor of the youngest, to motivate the kids for one of the four camps per year or to sensitize for the own donation program in favor of the own youth department.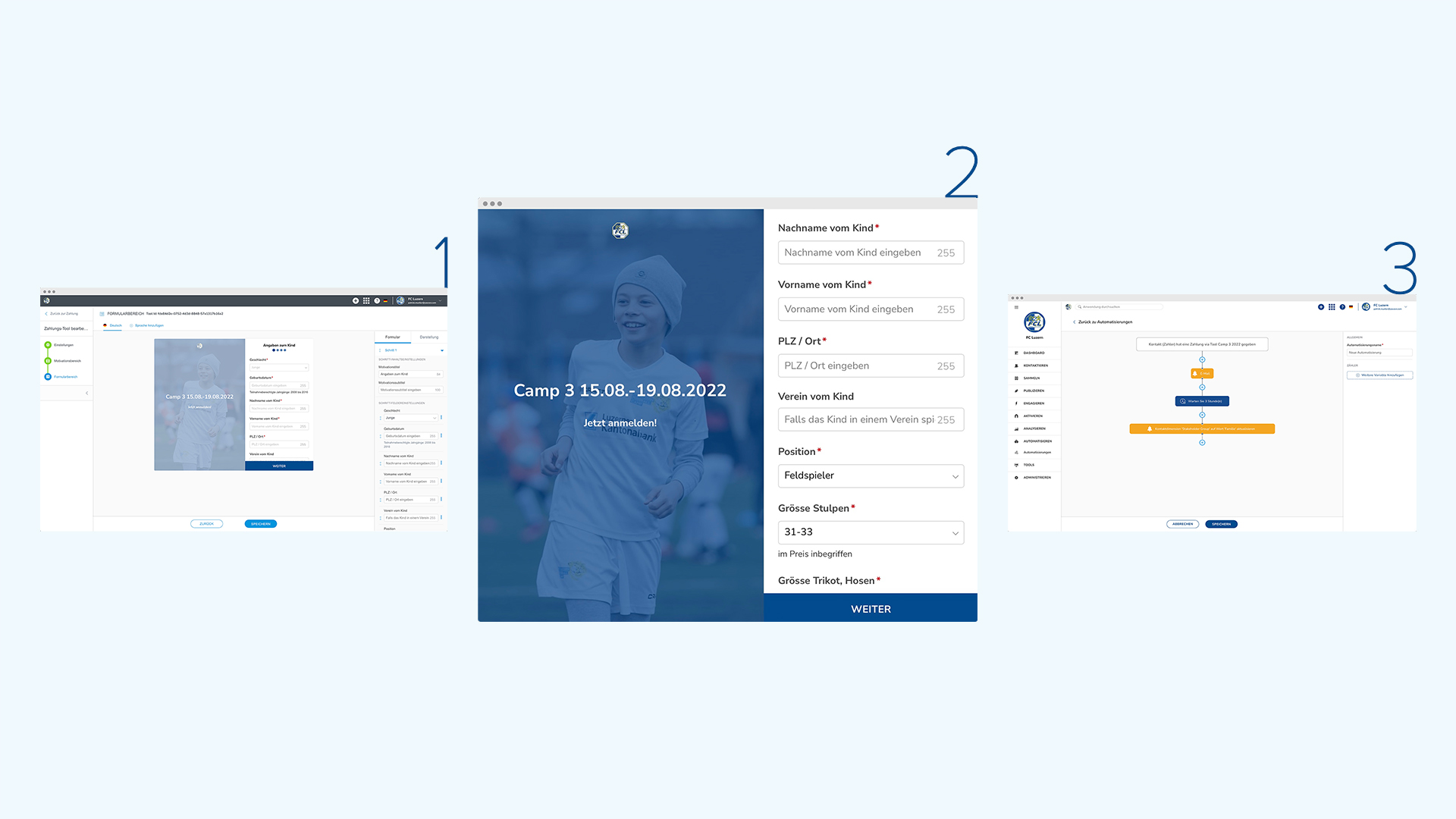 In this example, too, FCL can save a lot of time thanks to the flexible form function with integrated payment processing (by credit card) and, above all, is not dependent on an agency. The configuration of the different fields and the design of the tool is intuitive and thus does not require technical knowledge. As with the Cup Winners Jersey, this example can be implemented within an integrated marketing process. All login data is played into the central contact management. Afterwards, not only can an automated registration confirmation be played out, but thanks to easily definable automation workflows, the contacts concerned can be automatically assigned to the "family" or "camp participant" segment. An e-mail or notification with important preliminary information for the kids and parents can also be prepared so that it is sent out to the contacts at a defined time before the camp.
Results
Thanks to integrated marketing and communication processes, FC Luzern today manages to interact independently and flexibly with the various stakeholder groups. From generating club awareness to fan engagement: Lucerne impressively demonstrates that even with a small content team, you can bring incredible news power to the pitch and position yourself for the future in areas such as fan engagement, data generation and interaction management, despite limited financial resources.
Fan interactions increased
New contact details generated
With the integrated solution in the area of content, interactions and users, it was not only possible to make better use of revenue potential (increase in digital marketing revenue by a factor of 7), but also to make direct resource savings. Within a short period of time, FC Luzern was able to achieve an increase in efficiency of around 150% and thus achieve a significant increase in news power (frequency x reach x involvement) with the same human resources. For a club, this has a direct impact on how active, dynamic and professional it is perceived by its own fans and the general public.
Success factors
Various factors were decisive on the way to the result described above. Conceptual and strategic groundwork in particular ensured a targeted approach, made existing gaps and potential visible in the first place, and helped the club develop a common vision for future marketing and communications work.
The following success factors were central to FC Lucerne's targeted solution to the challenges addressed:
Experience & Process Mapping complete
Create a clear picture of target experience and processes before concrete implementation
Implement interaction design
Identify key points of interaction and integrate them into the digital presence.
Clarify requirements – select tools
Perform tool selection based on operational action goals – not vice versa
Break down data silos
Use central contact management for more overview and accuracy in follow-up measures
Link steps
Link individual marketing and communication processes with each other
Bringing skills together
Combine content, interaction and contact and build capabilities that are as integrated as possible
Record channels centrally
Play out and reuse content centrally and orchestrated on channels thanks to Content Hub
Fueling Involvement in a Targeted Way
Link interaction tools directly to content to trigger targeted fan behavior
Gain flexibility
Gain more flexibility thanks to self-configurable and designable tools (forms, etc.)
Use interaction data for personalization
Use interaction data as basic knowledge for fan actions and follow-up communication
Skyrocket your customer experience.